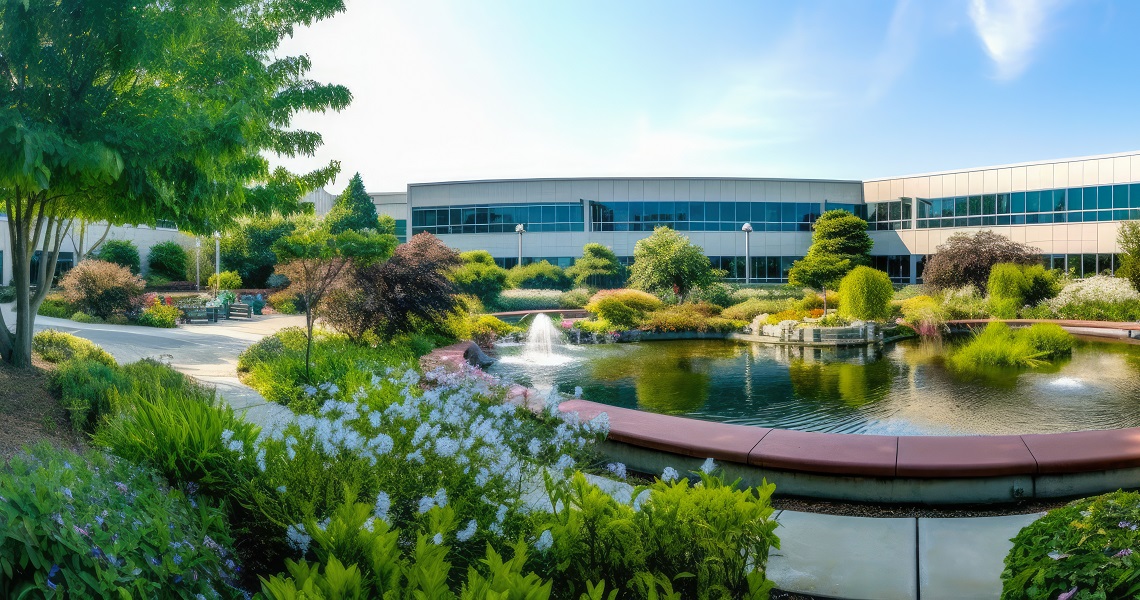 Designing a green area within healthcare and social recovery facilities is a solution to complement pharmacological therapies with nature-immersive activities. 
The goal is to promote the improvement of the psychophysical conditions of patients and individuals undergoing a reintegration process into society. 
To better understand what therapeutic gardens are, what they are used for, and how to design them, we have prepared a guide that addresses the main questions on the topic.
What Are Therapeutic Gardens?
A therapeutic garden - also called a healing garden - is a green area set up inside or outside a building. 
Therapeutic gardens can include flowers, hedges, plants, orchards, and vegetable gardens depending on the needs of the hosting building. 
The objective of integrating a therapeutic garden is to improve the psychophysical well-being of residents and also to facilitate interaction with external guests through contact with nature.
How Many Types of Therapeutic Gardens Exist?
Each therapeutic garden is unique and stands out for its function and configuration. 
We can classify the types of therapeutic gardens into:
Philosophical gardens

, where the interaction with nature is contemplative and manifests in observing and admiring plant species

Therapeutic gardens

that are also vegetable gardens, requiring active involvement from patients and being more interactive

Sensory gardens

, stimulating people's five senses and offering an immersive experience
What unites all types is the stimulation of individuals for therapeutic purposes through contact with nature, which can involve a simple walk or be realized through cultivating fruits and vegetables.
What Are the Effects of Therapeutic Gardens on Health?
Stimulate cognitive functions

, such as memory

Facilitate

physical rehabilitation

, such as regaining the ability to walk

Engage the

5 senses

and improve the relationship with the external environment

Promote the

production of endorphins

and conditions of greater trust, self-esteem, sense of responsibility, and belonging

Aid relational and social integration

by involving patients in simple plant care tasks

Educate about

proper nutrition

, especially in vegetable gardens

Allow learning the skills

of a gardener and cultivator

.
For Which Situations Are Therapeutic Gardens Suitable?
Anxiety and depression

Autism spectrum disorders

Down syndrome

Grief processing

Eating disorders

Alzheimer's disease

Motor and psychological rehabilitation after accidents and traumas
What Makes a Therapeutic Garden Effective?
Conditions of

safety and privacy

Maximum

accessibility

, including for individuals with mobility difficulties

Regular maintenance

of plant species

Implementation of a

sustainable and circular management

, such as compost use and rainwater collection
Use of Therapeutic Gardens in the Medical Field in Italy
A person in difficulty is like a suffering plant: with appropriate care, time, and patience, they can recover, grow, and flourish again.
Andrea Mati
In Italy, the tradition of using therapeutic gardens is relatively recent. The pioneer of this practice is Andrea Mati from Tuscany, a landscaper and nurseryman.
In 1986, he began collaborating with the recovery community for drug addicts at San Patrignano, proposing gardening programs to rehabilitate socially marginalized individuals.
Today, Mati is considered one of the foremost experts in therapeutic garden design in Italy and is recognized internationally as well.
Verde Profilo has completed numerous projects of indoor and outdoor vertical gardens and stabilized lichen walls for healthcare facilities, including San Matteo Hospital in Pavia.
See projects for clinics and hospitals
Designing Vertical Therapeutic Gardens with Verde Profilo
Within our catalog, you can choose from many customizable solutions, including green walls and VP-MODULO vertical gardens.
Botanical layouts can be composed with various plant species, climbers, succulents, flowers, and much more.
The advantages of choosing Verde Profilo systems? 
You optimize space thanks to low-invasive vertical installation and require minimal maintenance.