Verde Profilo is part of the ReStart4Smart project, as a leading technical sponsor. This is an important project in collaboration with Rome Sapienza University, which has joined the small international group of 21 universities about to spend two years competing in Solar Decathlon Middle East 2018 in Dubai, to design and create the best full-scale prototype of a sustainable and energy self-suffi cient home. In particular, we are proposing to introduce a new approach to architecture which exploits all the opportunities offered by a design focused on the surrounding environment and on use of renewable energies, sustainable technologies and highly innovative construction solutions.
TIME LINE
Solar Decathlon Middle East 2018 competition officially started on October 5th 2016, after the Opening Cerimony at World Green Economy Summit in Dubai, and will end in Dubai in November 2018.
During the 2 years of the competition, the 21 competing Teams will have to design and build their own Solar Houses and to transport them to Dubai in October 2018 for the final phase of the Competition where, completely operational, they will be open to the public and evaluated by an international jury according to the 10 competition contests.
Team Sapienza's ReStart4Smart Solar House will be built in Rome, at the Pomezia multipurpose center of CEFME-CTP, starting in Autumn 2017, immediately after the design phase.
After completion, the Smart Solar House will be disassembled and reassembled in order to test and simulate construction procedures and timing, in view of the final competition phase in Dubai from 14th to 28th of November 2018.
Then, operational tests will be carried out during the hottest months of June, July and August 2018, when the climatic conditions of humidity and temperature are closer to those found in Dubai during the competition. The achievement of all major energy and environmental certifications is also planned (LEED, Protocollo Itaca, Estidama, EU Energy Certification).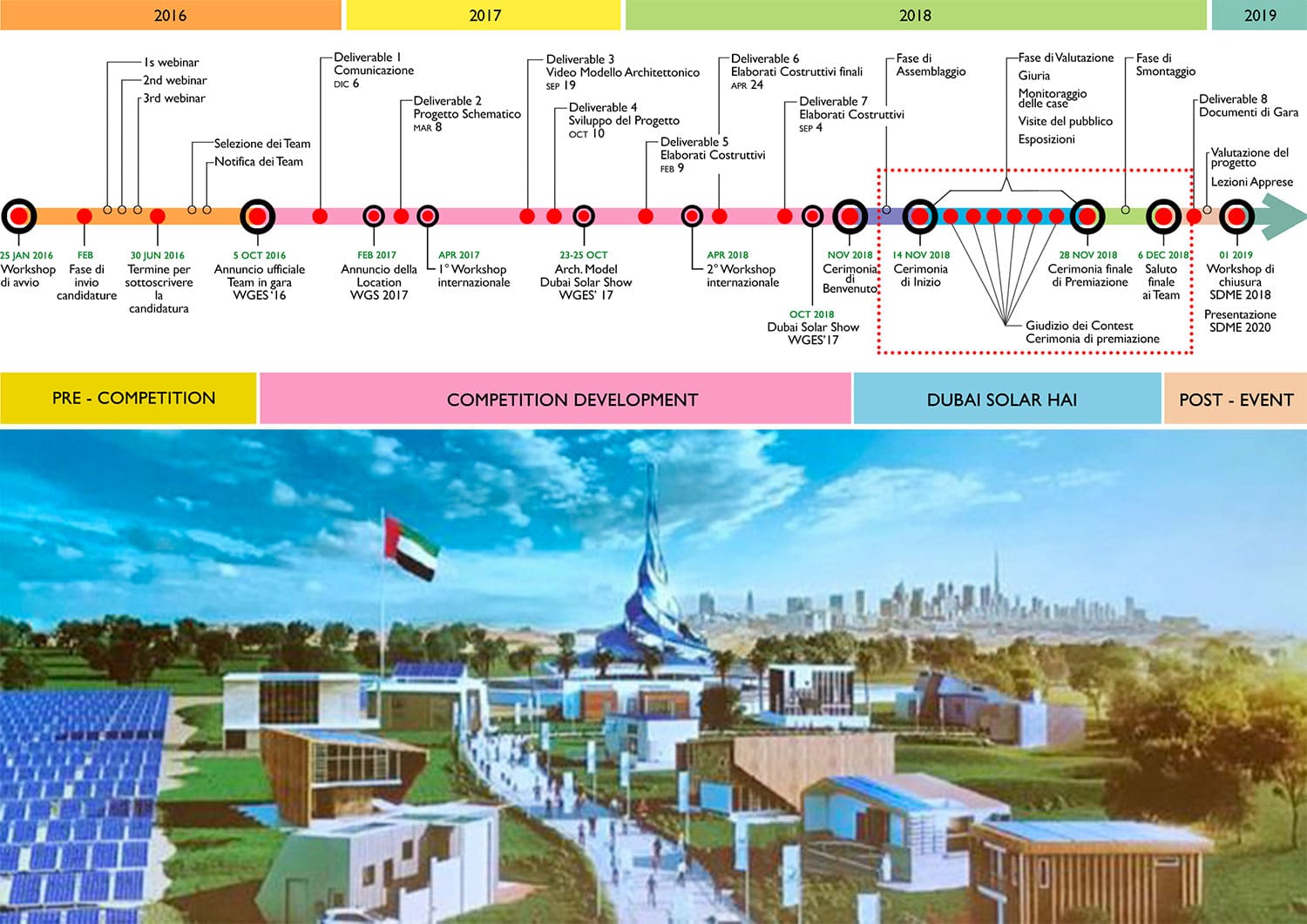 A PERMANENT LABORATORY FOR ENVIRONMENTAL EDUCATION AND TRAINING
During the construction and monitoring period, guided tours will be organized at the CEFME-CTP Center to the construction yard for education and training on sustainable architecture and renewable energy sources. These, along with educational activities in schools, are an important activity which will be pursued in Team Sapienza's Communication plan.
After the Competition Phase, the ReStart4Smart Solar House will become a permanent laboratory open to the public and will tour and be shown in Exhibitions and Events of national and international relevance.
THE SMART SOLAR HOUSE OF TEAM SAPIENZA
Entirely realized in wood, was built and tested in Pomezia near Rome in December 2017, will then be transported to Dubai in the competition venue where, between 14 and 28 November 2018, furnished and fully functional, will be exhibited to the public along with other competing houses and will be evaluated by an international jury based on 10 contests (hence the name Solar Decathlon): architecture, building system, energy efficiency, renewable sources, internal comfort, equipment functionality, mobility electricity, environmental sustainability, communication and technological innovation.