Since 2008, in Verde Profilo, in collaboration with design and architecture studios, we sign valuable projects. In our work, we combine technology and botany to create vertical gardens and stabilized moss walls, thanks to our patent MOSSwall®, and other plant species.
Our green solutions are designed for both indoor and outdoor settings and adapt to various design needs, thanks to modular and customizable layouts equipped with recirculating irrigation systems that prevent water waste. 
How does a vertical garden project work? The most important phase is plant selection.
How to choose plants for a vertical garden?
There are 3 criteria to choose the botanical layout:
Climatic conditions

Budget

Aesthetic effect
The climatic conditions determine plant well-being, so at Verde Profilo, we prefer the selection of native plants already accustomed to the local climate that can thrive.
Thanks to our recirculating irrigation system, it's possible to manage watering, providing plants with necessary nutrients and reusing water to avoid wastage.
The budget available impacts plant selection as there are more precious and challenging-to-cultivate plant species that can increase costs. In the article "What Is the Price of a Vertical Garden?" on our blog, we explain other factors that can affect the final estimate.
Aesthetic considerations also play a role, so the style chosen for the vertical garden will determine the choice of flowering plants, climbers, evergreens, or even stabilized greenery.
To learn more about stabilized greenery, we invite you to read the article "Everything You Need to Know About Stabilized Greenery."
What plants can be included in a vertical garden?
Every project is tailored: the Verde Profilo team evaluates the most suitable plant species on a case-by-case basis for indoor and outdoor environments and creates a botanical layout aligned with aesthetic requirements. 
 For example, if an aesthetically striking solution requiring minimal care is sought, a vertical garden with succulent plants is the best option.
We can design a vertical garden with:
Edible plant species, creating actual vertical gardens.
All our solutions for vertical gardens, including VP-MODULO, VP-EASY, and VP-CLOUD require very little maintenance and keep plants healthy, thanks to irrigation and phytostimulation systems.
The Benefits of Surrounding Yourself with Greenery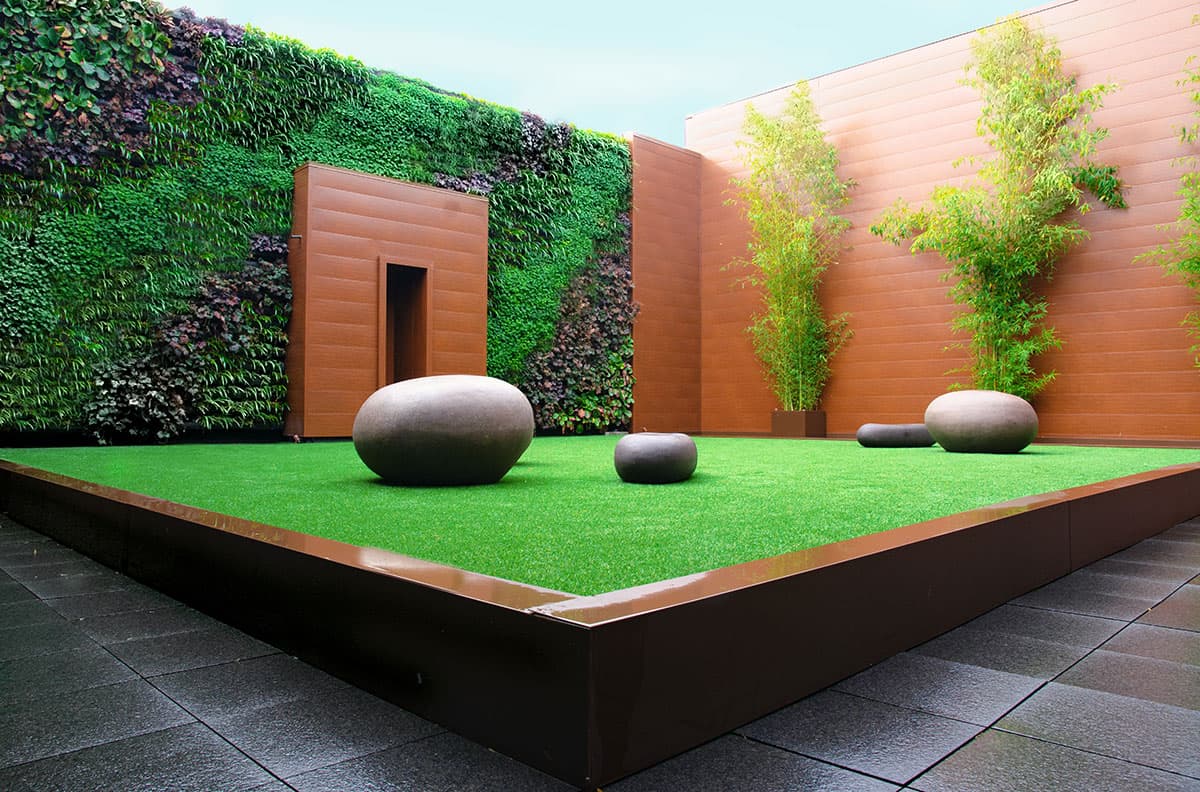 Whether it's a vertical garden with ivy, stabilized moss, or essences, Verde Profilo guarantees:
Quick and non-invasive assembly

, thanks to component modularity

Water savings

, due to a recirculating irrigation system that maximizes supply and minimizes waste, allowing infrequent refills.

Reduction of indoor and outdoor pollution

, thanks to the action of the plants.
Bringing nature inside and outside homes is an ecological choice that provides well-being to people and the surrounding environment.
Why Choose Us as Your Partner
Our team of green professionals is available to fulfill project requests.
We can design a composition with similar plant types or vary watering inputs for more variety, depending on the client's needs. 
We stand by our partners and clients from design to post-sale to provide consultations aimed at finding the best solution every time.
Looking for a partner to design a vertical garden? Contact us!